The 19th century in Russia could have bee seen from a distance as a superficial race between aristocrats in their pursuit of titles, orders, rank and marriages. Money was such the vulgar means to an end. The pursuit of such social ambition was not out of place in Victorian England and one can argue that it may have largely infected the  majority of fickle aristocrats across Europe. The Russians could not be wholly blamed for their part in these ambitions, after all Tsar Peter the Great had instituted the table of Ranks as a means of classifying service to the Russian state in a system of ranks, titles and awards that governed muh of the social hierarchy since its introduction in the early 18th century.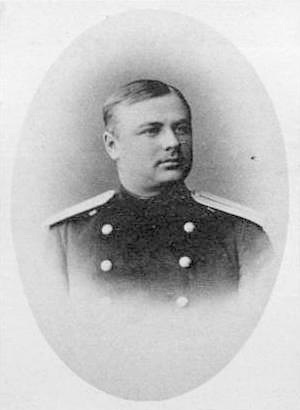 One elusive title was that of playboy and at least one member of the Kotchoubey family seemed to have earned that moniker with aplomb. You reach this status by making yourself the subject of an anecdotal story in the biography of the famed hotelier Cesar Ritz, the "king of hoteliers, and hotelier to king." A number of sources exist but the French version by his wife, Marie-Luise Ritz entitled César Ritz published by Tallendier 1948 tells the story in a most amusing way.
The person in question was Prince Vassili Sergeievitch /Василий Сергеевич (1862-1911). He was the son of Prince Sergei Victorovitch / Сергей Викторович Кочубей р. (1820-1880) and his wife Princess Sophia Alexandrovna (née countess Benkendorff) / Софья Александровна Кочубей (Бенкендорф) (1825-1875).
In an excerpt from a Swiss newspaper from Journal et Feuilles d'Avis du Valais dated 28, April 1961 ( see: doc.rero.ch/record/173866/files/1961-04-28.pdf), an excerpt of Ritz's biography by his wife of César Ritz that takes place in 1885 is published:
"…Le prince Kotchoubey, possesseur de fabuleuses richesses, arrivera un soir à Monte Carlo et retint au Grand Hotel des appartements pour lui et son importante suite de secrétaires, valets et chef, sans oublier sa séduisante maitresse hongroise Katinka (author's note: elle été danseuse), la plus courtisée des demi-mondaines du jour.
Katinka tomba malate et le prince chargea Ritz d'appellar le "meilleur médecin de la region". Comme il se trouve partout plusieurs "meilleurs médecins", Ritz choisit avec soin le plus vieux et le plus respectable de ces praticiens pensant que les célèbres charmes de la malade ne parviendrait pas à lui tourner la tete.
Pour une fois son expérience des hommes fut mise en défaut. Le pauvre docteur ne fut pas seulement épris la guérison de Katinka, il comblait l'objet de sa flamme de mille attentions importunes. Les orchidées, a elles seules, durent vider sa bourse. Katinka, royalement entretenue par son prince, n'avait que faire des orchidées du pauvre vieil homme et lui fit savoir sans ménagements. Le docteur rentra chez lui et tenta de se suicider en absorbant du poison. Un album entier de portraits de Katinka vêtue de provocants "déshabillés" fut découvert dans sa chambre. J'avoue posséder moi-même une photographie d'elle retrouvée parmi les papier de mon mari. Quelle ravissante creature et comme je comprends les ravages que fit dans les coeurs cette irrésistible beauté. Sur cette photographie, que je conserve toujours, Katinka est venue correctement, d'une robe ajustée boutonée jusqu'au cou; ses petites mains gantée sont jointes sur les genoux, son visage ovale avec sa bouche exquise et ses yeux mélancoliques est simplement tourné vers l'objectif. Une remarque cependant: elle croise les jambes. Les dames ne se tenaient pas ainsi de mon temps. Mais qui oserait l'en blamer, on ne saurait contempler plus joli pied et plus fine cheville!"
The story finds another chapter with Ritz's business partner, Auguste Escoffier with whom they open the restaurant Consersations Haus in Baden-Baden. Kenneth James in his 2006 book,  Escoffier: The King of Chefs, retells Maria-Louise's story of the beautiful Hungarian ballerina, Katinka who is the mistress of Prince Kotchoubey and her escapade with the unfortunate doctor from Monte Carlo. Additionally, we learn that Katinka was a gourmet who spoke of her favourite dishes, especially from Hungary, and shared recipes, too.  On one occasion she admitted to Escoffier that she did not like to eat unpeeled shrimp. The next meal that Auguste prepared for Katinka and her lover, prince Kotchoubey, he made sure the shrimp was peeled and introduced a dish of quail with foil gras. There were plenty of other servings and prince Kotchoubey was delighted with the results. He requested the same menu for a dinner to be held with new guests but this time, Katinka suggested that the prince would enjoy frogs legs with the shrimp and it appeared to be exactly the type of requests that delighted the restauranteur.
Today, thanks to the wonderful rapport between client and chef, there are a number of dishes that come down to us from the kitchen of Auguste Escoffier and they include Pheasants or Quail a la Kotchoubey and Dover Sole a la Kotchoubey.
In order to have a mistress, you first need to have a wife and most likely you will have to have several if they find that the living arrangement does not appeal to them. In January 1884, Prince Vassili Sergeievitch at the young age of 21 married Dona Josefa "Pepita" Serrano y Dominguez de la Torre (1865-1946) who was the second daughter of her father, Don Francisco Serrano Dominguez Cuenca y Pérez de Vargas, 1st Duke de la Torre, Count of San Antonio, the Spanish ambassador to France and his wife the Duchess Antonia (née Antonia Dominguez Borrell Guevara y Lenuy, 2ª condesa de San Antonio). Don Francisco had been both Regent of Spain from 1869-70, as well as Prime Minister from 1871-1872 and eventually Head of the Spanish State in 1874 until the monarchy was restored in that year when King Alfonso XII became king.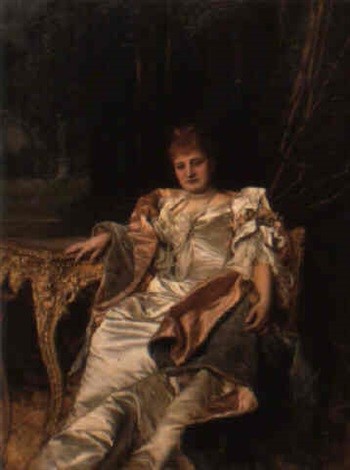 The courtship was among the shortest in history and followed in both the French and Spanish tabloids on a bi-weekly basis with the following story coming from the October 25 1883 edition of Le Gaulois: Earlier in 1883, Prince Vassili bumped into the young seventeen year old Pepita in Biarritz. He was completely smitten with her and after a whirlwind courtship of 15 days, he asked her father the Marshall Serrano for her hand in marriage.  Vassili was feted in the press as the nephew of the famous composer Alix (née Bressant) who was married to Mikhail Victorovitch but after his death remarried in France to M. d'Artigue.
According to press reports the marriage ceremony would take place in January 1884 and due to conflicts regarding the two religions of the young couple and the fact that Vassili Sergeievitch's elderly great uncle, Prince Lev Victorovitch / Лев Викторович Кочубей (1810 -1890) and his wife Princess Elisabetta Vassilievna (née Kotchoubey) / Елизавета Васильевна Кочубей (Кочубей) (1821 -1897) were living in Mont Boron, it would take place in Nice at the Russian Orthodox church of St. Nicholas which at that time was located in the center of twon on rue Longchamp. Inconviently, Vassili's great uncle and aunt had just sold their incompleted palace to the American industrialist Richard Thompson (today the Musée des Beaux Arts in Nice) and while the press was convinved of a wedding in Nice, it was a moot point as the young couple married in a lavish ceremony in Paris on January 12, 1884.
Newspaper Article on the wedding in Le Gaulois January 1884
Bloc-Notes Parisies
     Le M&M&ge de demsdH
     Aujourd'hui, à deux heures et demie  après midi, aura lieu, à la mairie du VII° arrondissement,  le mariage civil de Mlle Pepita  Serrano, fille du maréchal Serrano, ambassadeur  d'Espagne à Paris, avec le prince  Basile Kotschoubey; le maréchal Serrano,  qui est en même temps président du Sénat  espagnol, ayant été retenu à Madrid par la  crise ministérielle, et ne rentrant à Paris que ce matin. C'est le maire du septième  arrondissement, M. Rissler, beau-frère de  M. Jules Ferry, qui unira les deux époux.  Hier soir, à huit heures, a été donné à  l'Ambassade d'Espagne le dîner décentrât.  La maréchale Serrano, duchesse de la  Torre, portait une toilette en point d'Alençon  sur satin rose. Mlle Pepita Serrano  était en robe bleue, corsage à petits plis. Convives: le marquis de Campo-Sagrado,  gendre de feue la reine Christine, et ambassadeur d'Espagne à Pétersbourg;.les  princes Léon, Michel et Victor Kostchoubey  le général major Miloradovitch, le marquis de Villaviciosa, M. MoIIard, introducteur des ambassadeurs. La table élégamment décorée par le maître-d'hôtel Célestin,  était un parterre de roses et de camélias.
     MENU 
Potage Princesse 
Crème de volaille à la Royale 
Petites bouchées à la Régence 
Filets de turbot à la vénitienne
Quartier de chevreuil sauce Cambridge
Poulardes à la Chevalier 
Côtelettes d'agneau aux pointes d'asperges
Croustades de homard à l'américaino
Chaudfroid de cailles en Bellevue
SORBETS 
Faisans truffés sauce Périgueux 
Pâtés de foie gras de Strasbourg 
Cardons à l'espagnole 
Haricots verts à l'anglaise 
Glaces mandarines 
Gâteau sicilien 
Vins d'Espagne, Champagne, Migraine, etc.
Après le diner, réception où assistaient,
avec'le personnel de l'ambassade au grand
complet,tout le corps diplomatique etbeaucoup
d'hommespolitiques.
     Dona Pépita et le prince Basile étaient  rayonnants de bonheur. Leur mariage est,  en effet, un mariage d'amour. C'est l'année  dernière, à Biarritz, que le prince se rencontré dona Pépita et qu'il s'est épris d'elle. Dona Pepita était avec sa mère, à Biarritz, auprès de sa sœur malade. Le prince fit faire sa demande par le marquis de Campo-Sagrado, et sa demande fut agréée.
     Le prince Basile est orphelin. Il appartient à une des grandes familles de Russie, et il possède une immense fortune. C'est un grand jeune homme blond de; vingtquatre ans, de manières extrêmement distinguées, d'une belle intelligence, d'un caractère aussi cordial que sa pyhsionomie. Il est lieutenant au régiment des chevaliers-gardes de l'Impératrice.
     Dona Pepita ressemble beaucoup à sa mère, qui est toujours d'une beauté superbe, mais elle est aussi blonde que la duchesse de la Torre est brune. Front large et haut. nez aquilin, grands yeux noirs, vifs et vainqueurs, beaucoup de grâce, taille riche et souple, et port magnifique.  Demain, au mariage religieux, Mlle Pepita Serrano portera une robe de brocart broché de roses blanches à feuilles d'argent, avec tablier en point d'Alençon, et une branche de fleurs d'oranger. Signée Worth.
     Le prince Basile Kostchoubey portera l'uniforme des chevaliers gardes de l'Impératrice, et sera escorté de trente officiers de son régiment, dans ce même splendide  uniforme.
     La maréchale Serrano robe de velours mauve, de chez Worth, et chapeau du même brodé de perles.
     Dona Ventura, la malade de Biarritz, la sœur de dona Pépita bleu azur, garni de fourrures.
     La comtesse de Santovenia, l'aî&ée des filles du maréchal Serrano en satin" rosé  et dentelles noires, fleurs de velours aoir. Signé Vivot.
     Mme de Rubio-Guillen, née comtesse Apraxin, l'auteur de l'C/K~ o« r~«~ fort bel esprit en velours grenat, devant en  étoffe brochée, garnie d'applications. Toilette confectionnée dans les ateliers de  Mme Borel.
     Le maréchal Serrano: en grand uniforme  de capitaine général, la Toison d'or au cou et le grand-cordon de la Légion d'honneur  en  sautoir. Il sera escorté de ses aides de camp, le marquis de Vista-Florida et M. de Zuniga y Bouugny, ainsi que des attachés militaires de 1 ambassade, en grand un!"
     LE GAULOIS. MARDI ~2 Jaimer i~4
     forme: le colonel de Rubio-Gùillen, le  chef d'escadron marquis de Val-Carlos, et  le commandant d'Alvéar.
     Toute l'ambassade en grand uniforme.  Les témoins seront: pour la mariée, S. M. le roi don François d'Assise, probablement,  la chose n'est pas encore décidée,  elle le sera aujourd'hui, et le choix du second témoin, en dépend; pour le marié, le marquis de Campo-Sagrado et le prince  Michel Kotschoubey, frère du prince Basile. 
Par dispense spéciale du pape Léon XIII, le mariage à l'église catholique aura lieu le même jour que le mariage à l'église russe.  Sa Sainteté a commis M. l'abbé Gardet, curé de Sainte-Clotilde, pour la remise de  la dispense. Mais le maréchal et la maréchale  Serrano n'ont point encore choisi entre Sainte-Clotilde et la chapelle de l'ambassade d'Espagne.
     Quant à l'église russe de la rue Daru, où la cérémonie se fera, aucun cortège ne sera formé pour s'y rendre. Il y aura simplement rendez-vous. Le carrosse de gala de l'ambassade, avec cocher et laquais poudrés, y conduira la fiancée.
     En sortant de l'église de la rue Daru, les époux, les parents et les invités se rendront à l'Ambassade d'Espagne, où sera servi un lunch, dont voici le menu
Consommé de volaille < 
Truite saumonée à la gelée 
jambon d'York glacé 
Chaudfroid de volaille 
Poulardes et perdreaux rôtis 
Salade vénitienne 
Petites gelées aux mandarines 
Glaces, chocolat, thé, café 
Orangeades et cerises 
Raisins de Thom~ry 
Sandwiches, babas, petits-fours 
Vins d'Espagne, Champagne frappé, etc.
Dans les salons seront exposés les cadeaux offerts aux jeunes époux, entre autres  un superbe diadème en diamants, donné par la duchesse de la Torre, et toute  une corbeille de pierres précieuses, déposée aux pieds de sa .fiancée par le prince Basile Kotschoubey. 
Mlle Ventura Serrano et son frère, don Léopold, qnt donné à leur sœur un ravissant coupé, que le prince a déjà attela de deux superbes chevaux donnés par le prince Orloff.
     Tout-Paris assistera à ce mariage vraiment princier.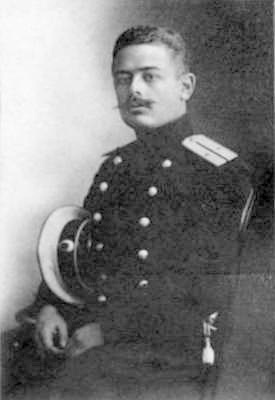 Young Princess Josefa became pregnant following her wedding to her Russian prince and almost exactly nine months from the date of her wedding on October 14, 1884, her son prince Prince Sergei Vassilievitch / князь Сергей Васильевич  Кочубей (1884-1909) was born. He died tragically at the age of 24 in Montreux, Switzerland on July 26th, 1909 most likely from Tuberculosis as the region hosted a number of sanitoriums including one in Leysin and was frequented by Russians suffering from respiratory illnesses. He is buried in the crypt of the Church of St. Nicholas on the family estate, Dikanka.
Before their separation and subsequent divorce, the couple or perhaps Pepita herself ordered a house to be built in Biarritz on the avenue de la Reine. It was completed in 1900 but there is no clarity whether it was ever occupied by the family. It was put on the market in 2017 for over EUR 8,000,000.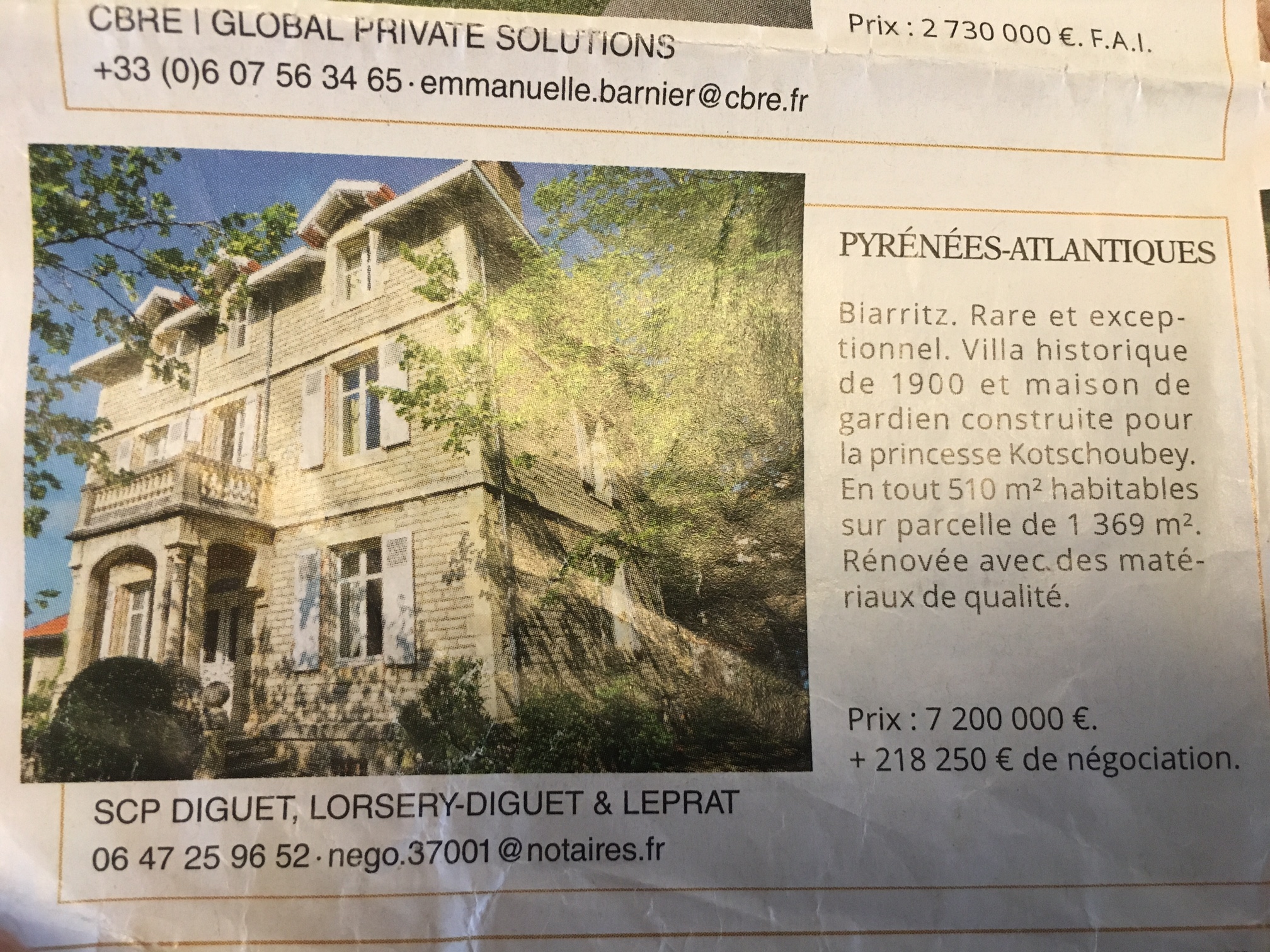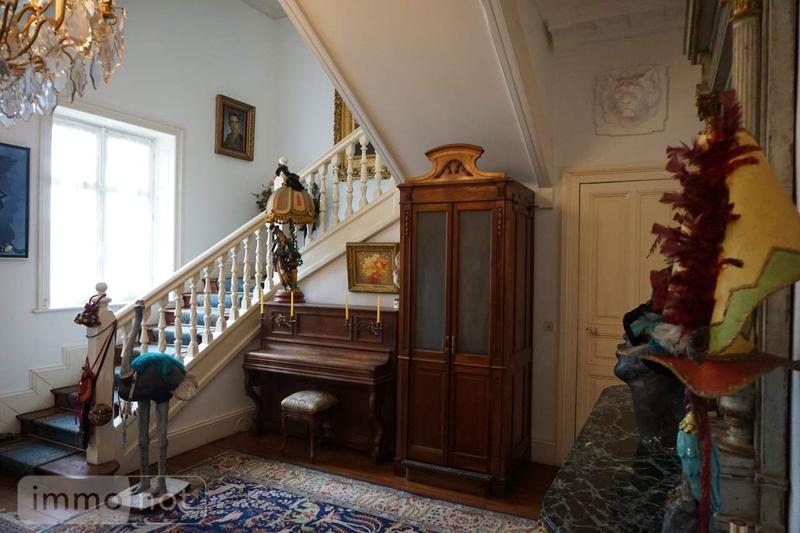 The first marriage ended in divorce perhaps around the turn of the century and Vassili Sergeivitch then married in 1904 or 1905 Natalia Afanasieva Stolypina /  Наталья Афанасьевна Столыпина (1872-1915?). This was the second Kotchoubey-Stolypin marriage with the first being the marriage of Nikolai Arkadievitch Kotchoubey /  Николай Аркадиевич Кочубей (1827-1865) and Ekaterina Arkadievna Stolypina / Екатерина Аркадиевна  Столыпина  (1824–1852).
Князь Сергей Васильевич, 14 окт. 1884 г.; кадет Александровского Кадетского Корпуса (1901); корнет Кавалергардского полка (1909); поручик Кавалергардского Ее Величества Государыни Императрицы Марии Феодоровны полка † 26 июля 1909 г. в Монтре
child and that year she
His second wife was Natalia Afansievna Stolypina / Наталья Афанасьевна Столыпина (Кочубей) (1872 -1915).