Sold at Kollers in Spring 2014
Hexagonal screw cap bottle, Leipzig, end of the 17th century. Maker's mark: Johann Paul Schmidt. Photo Koller
Parcel-gilt. Hexagonal body, chased and embossed all-around. Screw cap with hinged handle. Engraved coat of arms and motto of the Kotchoubey family: "ELEVOR UBI CONSUMOR". Incised mark on the bottom "293.z" and number "XLI". H 28 cm, 1244g. Estimate CHF 12,000 / 18,000 (€ 9,990 / 14,990). Sold for CHF 27,600.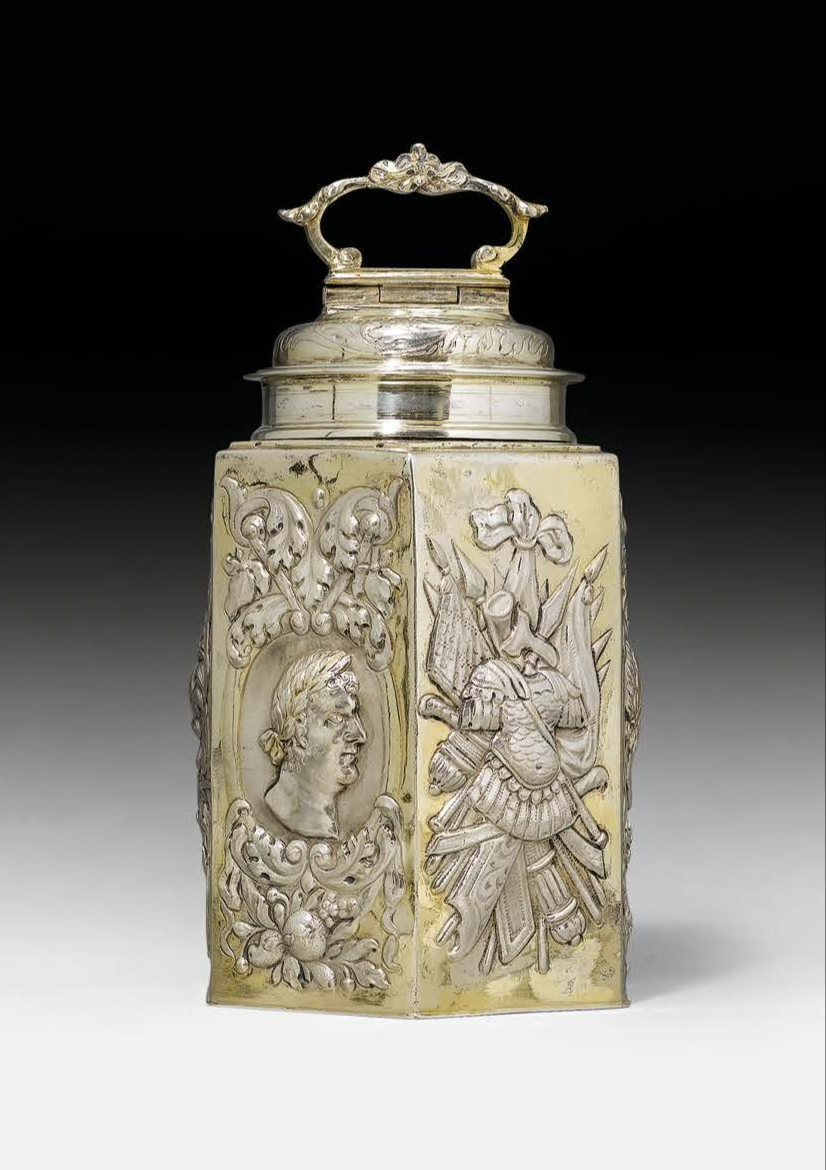 Provenance: German private collection.
German text:
1467*
HEXAGONALE SCHRAUBFLASCHE, Leipzig Ende 17. Jh. Meis- termarke Johann Paul Schmidt.
Teilvergoldet. Sechsseitiger Korpus. Wandung allseitig getrieben und ziseliert mit Akanthus- und Früchtedekor, alternierend mit Kriegstro- phäen und Imperatorenbüsten in entsprechend gestalteten Kartuschen. Schraubdeckel mit umlaufender Akanthusranke und Scharniergriff. Darauf graviertes Wappen sowie Leitspruch der Familie Kotchoubey: "ELEVOR UBI CONSUMOR". Am Boden Kratzzeichen "293.z" sowie Nummerierung "XLI". H 28 cm, 1244g.
Provenienz: Deutsche Privatsammlung.
Die Kotchoubeys sind eine fürstlich-adlige Familie aus dem Gebiet der heutigen Ukraine, deren Wurzeln sich bis in das 17. Jahrhundert zu- rückverfolgen lassen. Wann die Schraubflasche in den Besitz der Familie kam, es sich möglicherweise um eine Auftragsarbeit handelt, lässt sich heute nicht rekonstruieren, wohingegen die frühe Version des gravierten Familienwappens darauf hindeutet. Als äusserst wahrschein- lich gilt, dass sich das Objekt noch Ende des 19. Jahrhunderts im Besitz von Pjotr Arkadewitsch Kotchoubey (1825-1892) befand. Das Mitglied der traditionsreichen Familie war Geheimrat, Ehrenmitglied der St. Petersburger Akademie der Wissenschaften, einer der Gründer des Museums für Angewandtes Wissen in St. Petersburg sowie Vorsitzender der Russischen Technischen Gesellschaft. Er verfügte zeitlebens über eine umfangreiche Sammlung von Tafelsilber sowie be- deutender Kunst.
Literatur: Marc Rosenberg, Der Goldschmiede Merkzeichen, II. Band, Frankfurt am Main 1925, S. 252.
CHF 12 000.- / 18 000.- (€ 10 000.- / 15 000.-)