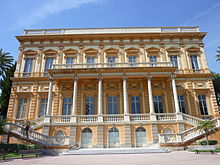 Musée des Beaux-Arts
33 Avenue des Baumettes,
06000 Nice, France
Princess Elisavetta Vassilievna / Елизавета Васильевна  (née Kotschoubey) (1821 ?-1897) and her husband Prince Lev Viktorovitch / Лев Викторович  (1810-1890) were Francophiles who lived for over half a century in France. They lived mostly on the Cote d'Azur and they are buried in the Russian cemetary in Nice.  The family's connections with France were deepened with Prince Lev Viktorovitch's brother, Prince Mikhail Viktorovitch marrying Alix (née de Bressant) (1838-1909) in 1869. She was his second wife.  The marriage was brief as Prince Mikhail Victorovich / Михаил Викторович  (1816-1874) died only a few years later in 1974. Alix married again in 1878 and lived in France where she published a number of books under her names, Princess Kotschoubey and Mme d'Artigue.
As is the case with a number houses and palaces that carry the family name, The Kotschoubeys never actually inhabited the palace which is now the Musée des Beaux-Arts in Nice. The plot of land was purchased and a monumental palace was ordered to be built by Princess Elisaveta Vassilievna. Construction began on the building in 1878 but three years later it had still not been completed. The couple who were already past middle age and clearly un interested in the energy and stamina it would take to complete the project decided to put the palace on the market and they moved to a villa on Mont Boron. In 1883, the American industrialist James Thompson purchased the palace whose construction had been delayed since 1881 and he hired a local architect, Constantin Scala to complete the project based on the original design. Today while the design and facade were part of the intended plans from the original architectural plans, the interiors are largely those that were completed by the Thompson family in the late Vicotrian style.  The project was completed as per the original architectural plans for a Neo-Renaissance palace designed.  James Thompson died in 1897 (the same year as Princess Elisavetta Vassilievna) and his heirs sold the house in the early part of the 20th century.
Source: http://fr.wikipedia.org/wiki/Mus%C3%A9e_des_beaux-arts_de_Nice