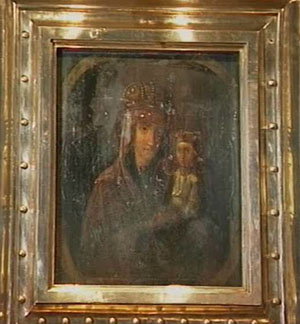 Originally, housed on the Kotchoubey estate of Yaroslavetz (Glukhov region, Ukraine) was the Miraculous Icon of the Mother of God "Surety of Sinners" which was owned by Vassili Leontievitch (Икона Божией Матери "Споручница грешных") and passed down to his descendent Vassili Arkadievitch.
­
…Икона Божией Матери «Споручница грешных»
По мнению исследователя Т. М. Богословского, звезды на иконе «даны как символы полноты благодати и напоминание величавости церковных песнопений, по которым Владычица Небесная есть Звезда, являющая Солнце».
Кем и когда было сделано такое изображение Пресвятой Богородицы, а также где впервые появилась эта икона — неизвестно. Но считается, что основанием для изображения Царицы Небесной в таком виде послужили слова из акафиста Покрову Пресвятой Богородицы: «Радуйся, руце Твои в поручение о нас Богу приносящая». Есть сведения, что икона Пресвятой Богородицы «Споручница грешных» когда-то находилась в Черниговской епархии на Украине — в усадьбе Ярославец, принадлежавшей В. А. Кочубею, оклеветанному гетманом И. С. Мазепой.
Прославление иконы Божией Матери «Споручница грешных» впервые произошло в 1844 г. в Николаевско-Одрином монастыре Орловской епархии. Однако еще за год до этого многим жителям города Карачева в сновидениях было открыто, что находящаяся в монастырской часовне икона является чудотворной. В монастыре святыня долгое время оставалась в неизвестности и даже небрежении: она стояла между ветхими иконами в обветшавшей часовне, располагавшейся за монастырскими воротами, и до того потускнела и покрылась пылью, что невозможно было прочитать на ней надписи.
Летом 1844 г. в Одрин  монастырь приехала купечес­кая жена Александра Почепина с двухлетним сыном Тимо­феем, который страдал такими тяжелыми припадками, что ему не могли помочь никакие медицинские средства. Мать просила монахов отслужить молебен перед образом Богоматери «Споручницы грешных». Это несколько удиви­ло иноков, т. к. к ним уже давно никто не обращался с по­добными просьбами. В монастыре пребывали прославленные святыни (икона Николая Чудотворца и образ Божией Матери «Утоли моя печали»), именно к ним и шло множест­во богомольцев. Вряд ли кто из них обращал внимание на всеми забытую икону, но купеческая вдова объяснила, что об этом образе ей было открыто во сне.
Спорученица грешных, прославление с 1843 г., в Ни­колаевском Одрине монасты­ре г.Карачева, Орловской епархии, в храме ее имени. Копия ее: с 1848 г., в Москве, в церкви св.Николая, в Хамовниках; в Троицке-Савске, в Забайкальской области; в Кяхте; в Ярославце, Глуховского уезда, бывшая у страдальца В.А.Кочубея. Празднование 7 марта и 29 мая.