1850 Commemorative Medal for Pr. Vassili Viktorovitch (1812-1850)
Pr. Vassili Viktorovitch was born to Viktor Pavlovitch who was a count at the time of his son's birth but nearly 20 years later was made a prince by Emperor Nicholas I and in due course his family and descendants all carried the title. The bronze medal was struck in 1850 in the year of Pr. Vassili Viktorovitch's death in commemoration of a man who had died too early.  His image on the medal is most certainly borrowed from a watercolour portrait by Piotr Sokolov who painted many of the illustrious families in the first quarter of the 19th century.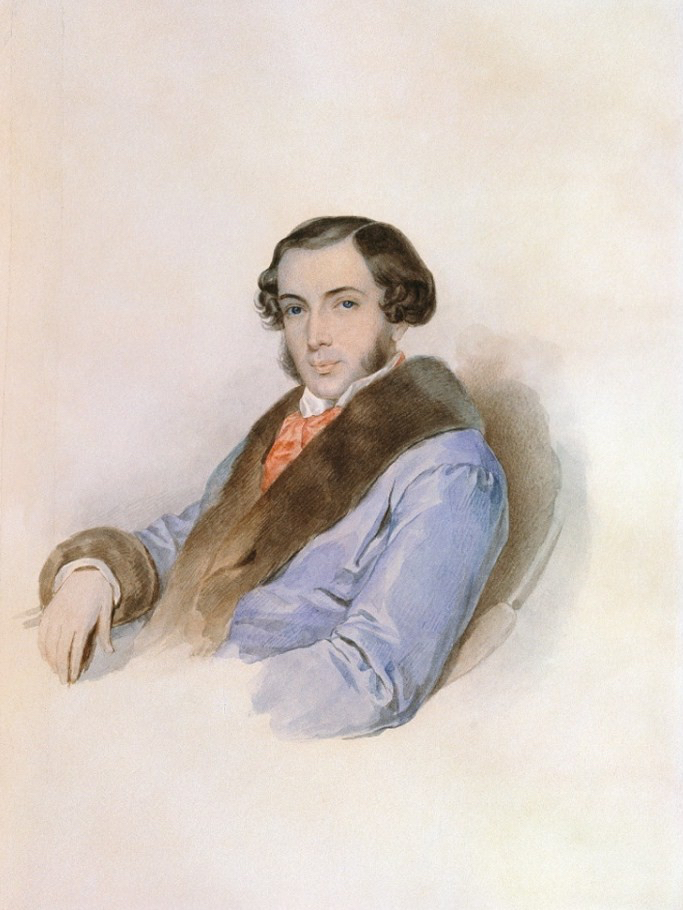 He left two young daughters and a widow would never remarry again. The commemorative medal is all the more special as it is a way to remember a man who built an extraordinary coin collection. It has been written that he started collecting coins at the age of 10 and was assistant curator in St. Petersburg school district. His collections was unique in that its sheer number and the rarity of many of the coins (Parnach coin, Olbia, Pantikapaion, etc.), made it the best private coin collection in Russia.
In describing the catalog of Pr. Vassily Viktotovitch's coin collection written by Bernhard von Koehne seven years after his death in 1850, a leading UK book seller writes about the catalog and the collector….
"The extremely rare catalologue of Prince Basil Kotschoubey's collection of Greek coins. Koehne, B. de. Description du Musée de Feu Le Prince Basile Kotschoubey D'Après Son Catalogue Manuscrit et Recherches Sur L'Histoire et la Numismatique des Colonies Grecques en Russie Ainsi Que des Royaumes du Pont et du Bosphore Cimmérien. Imprimerie des Papiers de la Couronne. (St Petersberg, 1857. Two Volumes. Folio, pp. (2), 452, (2), 7 finely engraved plates; (1), ii, 419, (1), xxi, 13 plates of coins, 8 further chromolithograph plates depicting antiquities, additional engravings in the text, 5 folding genealogy tables). Some spotting. Original quarter morocco over red cloth binding. Blind and gilt embossed decoration to boards. Raised bands with gilt roll, gilt lettering, all edges gilt, white silk endpapers. An extremely rare reference, with only 100 copies printed in French, none of which were made available for sale. Kotschoubey's impressive collection, second only to that held in the Hermitage Museum featured many rarities including coins minted in ancient Russia, principally around the Black Sea region, including modern Ukraine, Crimea and the Kuban region, as well as examples of the very rare gold staters of Pantikapaion. An important and impressive catalogue. Particularly attractive in the original binding as here. Koehne (1817-1886) was director of the Bureau Héraldique at St. Petersburg, director of the Hermitage Museum and an honorary or active member of nearly every numismatic society in Europe.