(b. in St. Petersburg, Russia on Septemer 21, 1903 – died in 1984  in Zug, Switzerland)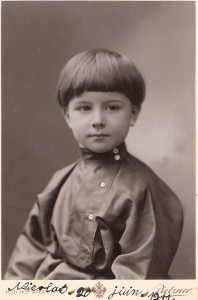 Nikolai  Vassilievitch was the son of Vassili Petrovich (?-1940) and Varavara Vassilievna (1869-1948). He lived most of his life in Switzerland and was an executive with Landis Gyr (www.landisgyr.com).  He was married to married to Erna Piker and they adopted a daughter who recorded a collection of songs, singing Soprano under her name Ruth von Kotschubey.  
A number of her concerts include:
22.10.1965 (link) CÄCILIEN-ORCHESTER ZUG Leitung: Guido Steiger Symphoniekonzert im Casino. Solistin: Ruth von Kotschubey, Sopran. Werke von Ohr. W. Gluck, W. A. Mozart, L. van Beethoven
ORQUESTA SINFONICA DE MALAGA 18 FEBRERO 1969 PERFECTO ARTOLA y RUTH VON KOTSCHUBEY
636.-13-12-1971 (link) CONCIERTO nº5, Ruth von Kotschubey, soprano, Manuel del Campo, piano
Geistliches Konzert St.-Oswalds-Kirche Zug. Bach-Col- legium-Orchester, Zürich. Leitung: Peter Eidenbenz, So- listin: Ruth von Kotschubey, Sopran. Werke von G. B Pergolesi, J. S.Bach, W. A. Mozart, F. Schubert, F. Men- delssohn-Bartholdy. Patronat der Stiftung Landis & Gyr 31. 10.77 (link)
Eglise de Valére (link)
XVIe Festival de l'orgue ancien 10 août, 1985 à 16 h
Markus Roemer, orgue, Zurich et Ruth von Kotschubey, soprano, Zurich
Recordings:
(link) Langmeier: Sonate für Violoncello Solo
Lieder Eines Gartners (Sopran und Klavier)
Fantasie und Fuge (Violoncello und Klavier)
Ruth von Kotschubey – Sopran
Dorothea Baumann – Klavier
Samuel Langmeier – Violoncello
Walter Boller – Klavier
1971 (link) Ruth von Kotschubey singt geistliche Musik im Grossmünster Zürich
Psalm 91, op. 30 in c / Paul Müller-Zürich. Rezitativ und Arie des Engels, Passionskantate, KV 42 / W. A. Mozart. Geistliche Lieder aus dem Schemelli-Gesangbuch / J. S. Bach. 2 geistliche Lieder, op. 105 / Max Reger. Geistliche Lieder / Hugo Wolf ; Orgelbearbeitung, Max Reger. Dulcissima Maria / Lodovico Viadana — Spanische Lieder aus Renaissance und Barock: Schlaf nicht, Hirte!. Ach Mond, der du mir die ganze Nacht erleuchtest!. Mein kleiner, vertrauter Distelfink : hüpfst von Zweig zu Zweig / Antonio Literes.
(29, enero. 1973) Concierto de Ruth von Kotschubey y del pianista Manuel del Campo en el Aula de Música de la Agrupación Cultural Telefónica (dirigida por Pedro Machado de Castro) 
Referencia: 

P 14- 01

Geográfico: 

Madrid

Obras relacionadas: 

Coplillas de Belén'- Interpretación

Fecha: 

1973
– See more at: http://joaquin-rodrigo.com/index.php/es/archivo-musical/cds/item/4630-#sthash.iagWa31E.dpuf
.